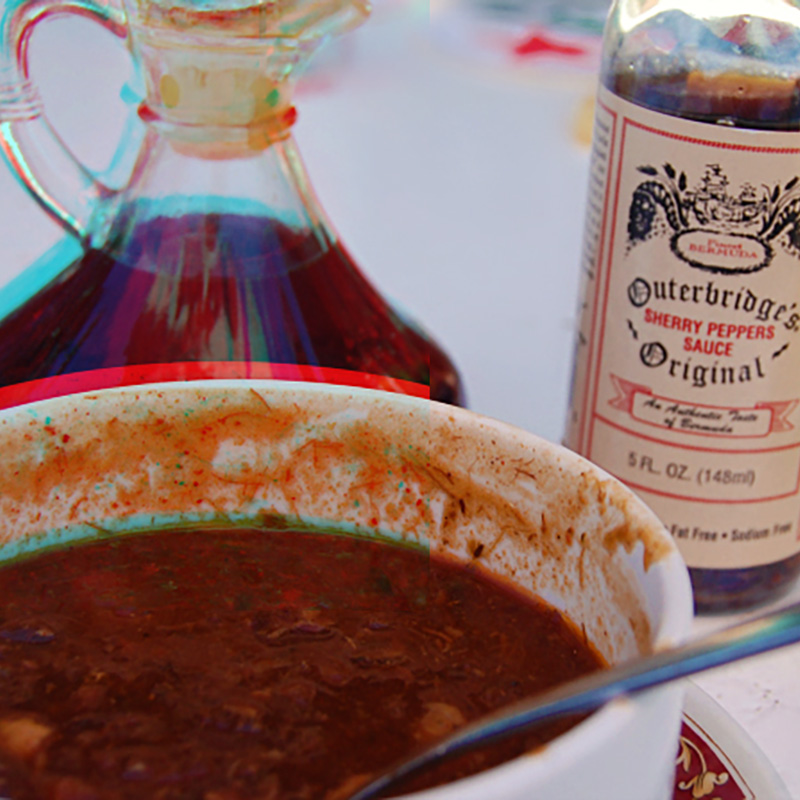 Like Bouillabaisse to the French, Minestrone to the Italians, every Fish Chowder maker insists his or her recipe is the most authentic. There is a contest every year in Bermuda to determine which individual and which restaurant makes the best. Every chowder is different, and every year there is a different winner. The search goes on.
A true chowder head will tell you that the best fish chowder is made with heads of grouper. Boil 'em up good and pick off all the meat. The bony head also provides the gelatin that helps to thicken the soup.
So if you can get 'em, use 'em.
4 qts water
2 lbs fish fillets (Rockfish, Sea Bass), or 5 lbs Grouper heads
1 tbs fresh thyme
6 bay leaves
20 peppercorns
¼ tsp ground cloves
2 tbs butter
2 tbs olive oil
3 large Bermuda onions, chopped
1 large clove garlic, minced
1 stalk (8 ribs) of celery, chopped
2 green bell peppers
28 oz can of whole tomatoes, seeded, chopped
1 ½ cup good chicken broth
1 cup catsup
½ cup parsley, chopped
2 tbs Worcestershire sauce
2 tsp fresh lemon juice
2 lbs potatoes peeled, small dice
6 large carrots peeled, small dice
Freshly ground pepper to taste
2 oz Goslings Black Seal Rum
4 tbs sherry peppers
In a large pot bring the water to a boil and put in the fish fillets, salt and spices. Lower flame and simmer for 45 minutes. In another cauldron large enough the contain all of the ingredients melt the butter and oil together and sauté the onions and garlic until just golder. Add the celery and green peppers and sauteé another few minutes. Add the tomatoes and broth and simmer for 30 minutes. Now strain the fish stock into the cauldron. Pick out the fish and add it to the pot as well, discard the spices. Add the remaining vegetables to the pot and simmer partially covered for two hours.
The soup should be thickened, but not thick and be a dark reddish brown and very aromatic. If not thick enough you may resort to a little cornstarch and water, stirred into the boiling soup, I won't tell. At the end of the cooking time add the sherry peppers and Black Seal Rum. Serve immediately, or all to cool and keep a day for more intense flavours. At serving time pass cruets of additional Black Seal Rum and sherry peppers sauce for the brave.